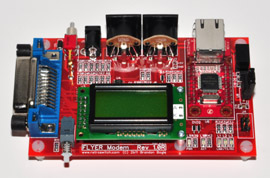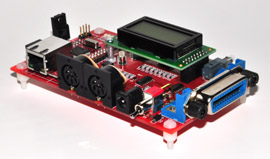 Flyer Internet Modem
Bring your Commodore computer into the internet age with Flyer, the combination internet modem and disk drive emulator for Commodore 8-bit computers!
Purchase
Currently Unavailable
Flyer provides both IEC and IEEE-488 interfaces and supports a wide range of Commodore computers, from the PET to the Commodore 128. Once connected, Flyer provides you with two new peripherals – an internet modem and a disk drive emulator which currently supports D64, D71 and D81 disk images. While no additional software is required to use Flyer, it includes a useful configuration program built in (loaded from the Flyer itself) which allows you to easily configure network settings, cloud server configurations and more.
Flyer allows seamless loading and saving of programs and disks to websites which support Retroswitch's cloud server protocol. It even provides the flexibility to develop your own custom solutions utilizing Flyer's built-in support for HTTP and TCP protocols.
Flyer includes 3.5MB of flash memory for storing disk images locally. You can also create new disk images on the fly, and either discard them when finished or upload them to the cloud to save them for future use. You can easily switch between locally stored disks using the button on the Flyer.
Firmware updates are safe and easy. A simple LOAD command will update your Flyer to the latest firmware release over the internet. If anything should ever go wrong, the Flyer includes a recovery procedure which will reset the device to the exact state it was in when you first received it.
Specifications
Dimensions – 4 7/8″ x 3″ x 7/8″ (WxDxH)
Interfaces – 2 x IEC, 1 x IEEE-488, 1 x Ethernet RJ-45
8 x 2 character backlit display (removable)
Power supply – 2.1mm power jack, center positive. 9VDC 1A recommended
Front panel button for easy selection of disks and other options
Documentation
Flyer User's Guide 1.2PDF
Updated 7/26/2019.
Flyer Quick Start GuidePDF
Updated 1/2/2012.
Flyer Cheat Sheet 1.0PDF
Special thanks to Marc Honey for creating this!
Cloud Enabled Sites
commodoreONLINE
The official Flyer companion website.
CommodoreServer
Home of the Comet64 internet modem, now providing cloud services for the Flyer too!
cbm8bit.com
Providing private cloud storage and a fantastic search interface.
Related Software
Cloud Server 1.0.4
Windows | OS X | Linux
Updated 7/23/2013. A standalone server application to serve disks and files to your Flyer.
Telnet 1.0.2C64 | PET (80 Col)
Updated 8/16/2013. Custom telnet client written specifically for the Flyer.
IRC 1.0.2C64 | PET (80 Col)
Updated 8/16/2013. Custom irc client written specifically for the Flyer.
1.2.2 (Released 03/06/2021)
Added support for HTTP chunked transfer encoding.
Fixed occasional "unknown error" after initial DNS lookups.
Locally buffered data can now be read from Flyer after remote host closes connection.
Minor cleanup.
1.2.1 (Released 08/14/2013)
Added the ability to listen for connections
TCP data source fix – no EOI was sent when reading from a channel that currently had zero bytes available
1.2.0 (Released 07/23/2013)
Added the ability to stream disks over the network
1.1.9 (Released 09/05/2012)
More IEEE-488 fixes – CATALOG command is now fully stable
1.1.8 (Released 05/17/2012)
REL files now supported
D64 error blocks now supported
IEEE488 protocol fixes
General bug fixing
1.1.7 (Released 03/11/2012)
Directory formatting fixes
NET-AVAIL: command fix – returned count now properly includes any bytes cached by the IEC driver but not yet sent
TCP channels now send packets on EOI (was per byte)
New NET-STAT: command returns bytes available and connection status for a given channel
New STATUS:FIRMWARE command returns current firmware version
Added additional TCP error handling
1.1.6 (Released 02/11/2012)
DHCP support added and exposed by updated configuration utility
Relaxed some filename parsing rules for improved compatibility
Added port setting for cloud configurations
General bug fixing
1.1.5 (Released 01/10/2012)
JiffyDOS Support
Added scrolling support for LCD display
Network "available bytes" (N-A:) command now works for HTTP channels
Disk directory spacing fixes
Relaxed validation for some DOS commands (this fixed CBM Commander compatibility issues)
Reading DOS command channel immediately after startup now returns Flyer identification
1.1.4 (Released 12/15/2011)
Support for secondary drive (1:) wildcards
Support for D80/D82 disk formats
IEC protocol fixes exposed by Easyprog
General bug fixing
1.1.3 (Released 12/03/2011)
30% network speed improvement
Added new disk manager utility
1.1.2 (Released 11/18/2011)
Disk image fixes
DOS copy/rename support
1.1.1 (Released 11/12/2011)
Updating Your Firmware
Updating your Flyer's firmware is a simple and fail safe process!
Simply type the following command on your Commodore to instruct the Flyer to download and install the most up to date firmware:

Rest assured if anything should go wrong during the process, the Flyer will either abort or will recover itself as appropriate.