Cloud Server
Version:1.0.4
Date Added:07/23/2013
Supported Devices:Flyer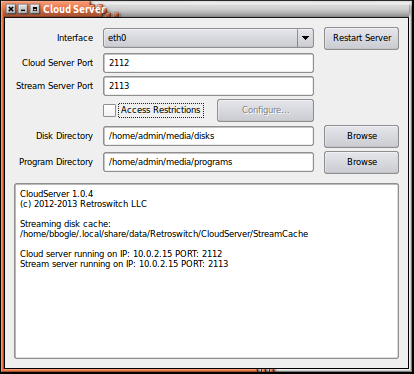 Overview
Cloud Server is a standalone GUI-based application which allows you to serve disks and programs to the Flyer internet modem.
Installation
Windows
After extracting the downloaded .zip, simply run CloudServer.exe. No special installation steps are necessary.
OS X
After extracting the downloaded .zip, double click the enclosed CloudServer.dmg and then drag the CloudServer application anywhere on your machine to install.
Linux
Extract the downloaded .tgz anywhere on your machine. Although the shared libraries required by CloudServer are included, you may first need to install Qt 4.7 or later for CloudServer to function properly (e.g. sudo apt-get install libqt4-core libqt4-gui libqt4-network).
How to Use
After launching CloudServer, the console window will indicate whether the internal servers started successfully or not. If not, there are most likely port conflicts with other applications running on your computer. If this is the case, simply enter new port number(s) and press "Restart Server".
If there were multiple ethernet interfaces found on your computer, you can choose the active one using the drop down selector. Again, simply press "Restart Server" to restart the internal servers using the selected interface.
You should also choose the default disk and program directories on your computer at this time. NOTE: program files must currently have the suffix '.prg' to be picked up by the server.
At this point, you should be able to connect to the Cloud Server after setting up a new cloud server configuration on your Flyer using the same IP address and port settings you just configured. Note that you should specify the "Cloud Server Port" when configuring your Flyer. Username and password are ignored unless access restrictions are enabled in the cloud server.
Important
Once you have streaming disk shortcuts on your Flyer, you should not change the stream server port configured in the Cloud Server. This is because the streaming disk shortcuts contain the address/port of the streaming server they were paired with when initially downloaded.
Also, the stream cache directory managed by the Cloud Server should never be deleted while there are any outstanding streaming disk shortcuts stored on the Flyer. The location of the stream cache is displayed in the console window when the Cloud Server is started.
As of CloudServer 1.0.3, you can enable access restrictions and set up one or more password-protected user accounts. You can add as many users as you like.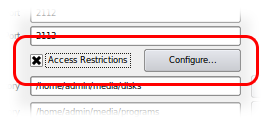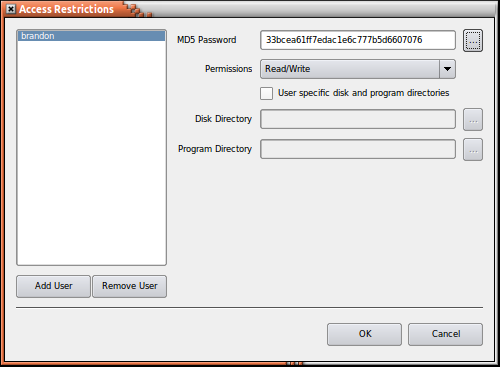 * not my actual password hash 🙂
Note that passwords are entered and stored as MD5 hashes for security and flexibility. You can enter the MD5 password hash if known (for example, to integrate with another user database), or use the "…" button to enter a plain text password and have the MD5 hash computed for you. The plain text password is NOT stored by the CloudServer application.
In addition, each user can optionally be assigned his or her own disk and program directories. If these are not enabled, the default disk and program directories will be used for the user.
All configuration settings and users are saved automatically when quitting the application.
Version History
1.0.4 (Released 07/23/2013)
Added support for disk streaming via the addition of a second dedicated streaming server.
Added "Stream Server Port" option to allow choosing the port for the streaming server.
1.0.3 (Released 09/05/2012)
Added ability to chose ethernet interface if multiple are available.
Added optional access restrictions to allow multi-user configuration (including login credentials & per user directories).
Disk types (d64, d71, ..) now displayed in search listings returned from the server.
Fixed bug causing wrong disk type ID to be sent back to the Flyer. This would cause incorrect disk types to be displayed when listing disks on the Flyer (load"$$",7) even though the disks would otherwise work fine.
Media is no longer pre-scanned. Any file system changes are seen immediately.
CloudServer now available for Windows, Linux (Ubuntu tested) and OS X.
1.0.2 (Released 05/10/2012)
Fixed bugs dealing with disk/program filenames which contained spaces.
Fixed media scan to now recognize D64s w/extra error blocks correctly.
1.0.1 (Released 02/19/2012)
Directory scan for disks and programs now recursive.
Fixed bug when receiving multiple disks in a single upload package from Flyer.
Fixed unterminated disk listing returned to Flyer when downloading disk(s).
Fixed issue with some error messages not getting returned to the Flyer (for display on the LCD).
1.0.0 (Released 02/09/2012)